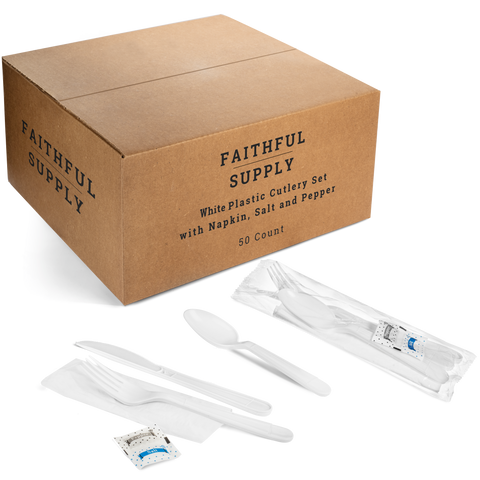 Faithful Supply 50 Wrapped Plastic Cutlery Set with Napkin- Heavy Duty Knife Fork Spoon Napkin Salt Pepper Sets - Cutlery Packets - Bulk Utensil Set Disposable To Go (White 50)
HAVE YOU EVER BEEN IN A BIND FOR TIME? HAVE YOU EVER BEEN STRESSED OUT ABOUT GETTING READY FOR A PARTY OR MEAL PREP? CAN FIND THE PARTY SUPPLIES YOU NEED?
That's where Faithful Supply's Individually Wrapped Cutlery Kits can help you save time and money. Each one of our disposable cutlery sets comes as a wrapped cutlery kit including a heavy duty 7.5" knife, 7" fork, 6.25" spoon, a 12" x 12" single ply napkin and single use salt and pepper packets. In addition, as each of these are heavy duty plastic ware utensils, you can count on these plastic silverware packets meeting not only your party needs but these are perfect for packing in your lunch at work or at school.
BUT WHAT ABOUT THE ENVIRONMENT? AREN'T I JUST ADDING TO THE PROBLEM? The good news is that all parts of these plastic silverware sets individually wrapped are completely recyclable. The plastic utensils set are made of recyclable polypropylene while the napkin is 100% paper. The wrapper is also recyclable and the salt and pepper packets are 100% paper based and will compostable and breakdown in landfills and home composting units.<p>